Prescription Refill Form
Please fill out the form to the right to request a refill for medication.  Enter the prescription number of your medication, which can be found on your medication as seen below.  Please do not enter the name of your medication.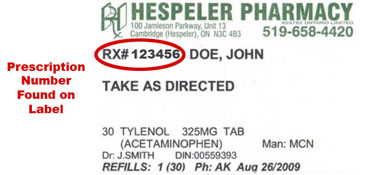 Terms and Conditions
By filling out a refill request form, you consent to allowing a pharmacist access to your personal health information. Furthermore, you agree to allow the pharmacist to disclose all prescription and personal health information to physician(s) and drug plans in order to maintain the standard of care when necessary.
ID may be requested upon pickup if a third party is picking up a refill on behalf of the patient.
In the case of a technical failure, Hespeler Pharmacy cannot be held liable for delayed or lost requests.